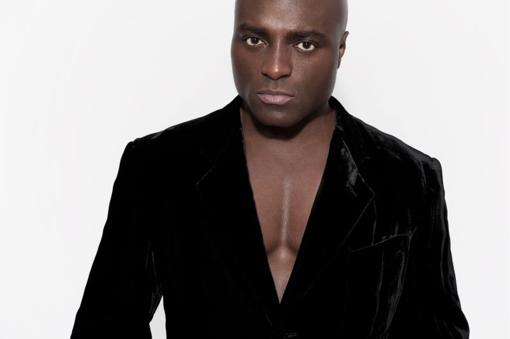 born on October 5 th, 1968 in Accra, the capital of Ghana, as Nana Kwame 
Abrokwa, grew up in an affluent environment. Until the age of 12 he attended Ghana International School being brought up bilingually. In 1970 the family left for a "visit" to Germany, Hamburg were Nana, as the oldest of four siblings, was later convinced by his mother to stay for good and start a new life. These following years Nana described as being very "tough" on him. Visiting a German school without knowing the language whilst being challenged as a teenager to define himself in a new culture and trying to be accepted. 
Music always played a big role in Nanas life but became a vital source of strength during his adolescent years giving him the feeling of stability. 
"I often felt lost as a teenager but music released great powers in me and made me feel energized and alive" , he reflects. 
Taking those powers into action he starts practising to deejay at home and soon becomes a well known newcomer DJ (Africa-­‐True) touring the main clubs in Hamburg. A couple of years later he coincidently meets DJ David Fascher, DMC World DJ Champion who is impressed by Nanas various talents. They link up and immediately plan new music and event projects with Nana as a rapper, which in 1990 result in a music deal with East West Records releasing a first single "Here We Go". 
Thereupon he focuses on his rap career. For Nana there were only two producers in the Music Business back then who would provide indispensable experience to level his path: Toni Cottura and Bülent Aris. He turned out to be right. 
Seven million records sold worldwide. 
In 1996 his first solo "Darkman" was released, immediately hitting the Top 10 charts, followed by various other smash hits like "He's Coming", "Remember The Time" and "Lonely". After his second album, various awards and success on its highest point, Nana decided to take a break from rapping in 2000 and look behind the scenes working as a talent development manager for EMI Music Publishing Germany. Meanwhile, after undergoing a music depression, he looked for inspiration trying to find his "real self" as an artist and taking care of his passion: music. In the following years Nana toured and played gigs all over the world. 
Eager to progress and to expand his horizon away from music, Nana decided in 2012 to put creativity on hold, move to Berlin, Germany and gain further background knowledge by studying International Management at FOM Berlin. Subsequently this changed his way of thinking. Additionally, he observed changes in Music Business brought about by new media and the urge to resume his creating music increased. 
"I always knew that the right time to resume my music career would come one day but I was never in a hurry and patiently waited for the perfect moment ."